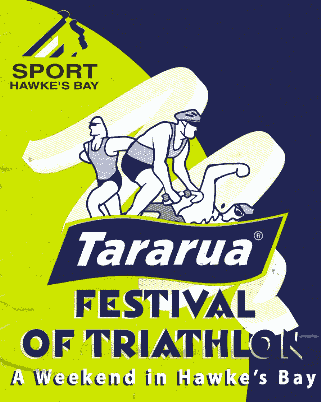 A brief report from the 'Festival of Triathlon', incorporating the New Zealand Olympic Distance Championships held in Napier, February 2001
Despite having forgotten my wetsuit in the last minute rush to pack, and not having a bike, it was no bar to entering the race. This area of New Zealand is full of friendly triathlon-mad folk who are eager to help out friends from overseas. I was lucky enough to borrow a Cannondale not dissimilar to my own (even down to the 'Ironman' stickers!), shoes (only one size too big) and a helmet. Having tested the sea and found it pleasantly warm enough for a 1500 metre non-wetsuit swim, I was ready to go.
The festivities began on Thursday night with a pasta party to beat all pasta parties. Chicken curry, savoury rices, four different pasta dishes and puddings were on the menu, washed down with choice of drinks (I plumped for the Steinlagers, naturally), all for $10 (about 3 quid). Three helpings later, the evening's entertainment was provided by Ken Maclaren who presented an interactive seminar on "racing faster with no more training".
After registration on the Friday, race day Saturday dawned cloudy, which was a relief after the 33 degree temperatures of the 3 days before, but still humid. Well, of the 150 competitors toeing the line for the swim, there was only one non-wetsuited person (Pommie 'wusses' theory dispelled in one fell swoop!). The swim went well, they go in for 2 lap swims with a run up the beach half-way over here so you get a chance to see how many people are in front of you (lots). Luckily there was no sign of the sharks and sting-rays which patrol these waters, and I exited the swim in 24-39.
On to the bike and I was immediately caught by the lead woman (they'd started four minutes behind the men) Olympian Evelyn Williamson who didn't seem to be riding as fast as I expected and I stayed with her until we were joined by two other girls and a camera crew, together with two or three other guys we stayed together in a [mostly] legal group for most of the ride. The first 20k's were really hilly, I felt quite strong on the up sections but would get completely left on the swift technical descents (as usual!). The last 20k on the bike were fast and flat along the sea-front, which was just as well as it had started to rain quite heavily and the hills would have now been treacherous. Head down all the way to the finish I re-caught and passed the lead women just entering transition. Bike time 1-09-52.
I somehow lost about 30 seconds to the women racking my bike and changing shoes (must practice those transitions!) and although I managed a steady 10k (38-37) on the fast flat run, I didn't make up as many places as I had hoped. I finished 50th overall (5th vet) in 2-13-08, pretty satisfied with what is possibly a pb for the distance. Full results at http://www.triathlon.co.nz/triconz/Triathlon/results/articles.asp?id=18
The day was wrapped up with another grand meal and [rather too many, naturally] drink session at the prizegiving, spot prizes galore (missed out on the wetsuit, made do with some energy drink) followed by a slide-show to music, of photos from the day, put together by Ken Maclaren.
Sunday was the final day of the festival and consisted of breakfast on the beach, followed by 'fun' family and pot-luck team relay triathlons. This was a great triathlon event, superbly organised by the local multisport club and sport foundation and one I would recommend to anyone thinking of visiting New Zealand at this time of year. You are made to feel at home in Hawke's Bay.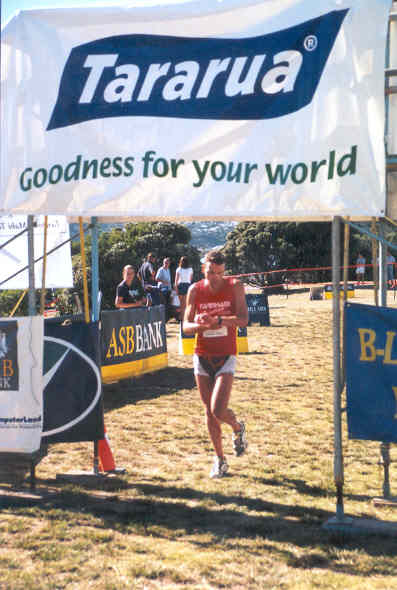 Back to Sport Page