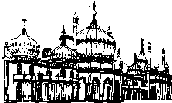 A FEW QUESTIONS ANSWERED

What?
The 55th Annual Road Running Race from London to Brighton. 54miles 198yds (87.085km)

Why?


Despite the fact that I am not a high mileage runner, rarely exceeding 40miles per week, I have managed to extract a great deal of satisfaction from competing over the marathon distance. I have become comfortable with the 26.2 miles, how to pace, how to react to your body, when to push, when to back off, when to drink, when to eat, all the factors which combine to performing at the best of your ability at the time. Although never at the very sharp end, I have achieved a modicum of success running marathons as a veteran.
I have also been able to use my running ability to convert moderate swim and cycle splits into respectable Ironman triathlon performances. I have even become comfortable, in a manner of speaking, with the Ironman.
However, being 'comfortable' is not necessarily what sport is about. There are times when you need to increase the challenge, try something new, something harder, something longer. Having never run beyond the 26.2 miles, an ultra would definitely represent that challenge. A time to get uncomfortable again.

When?


Sunday 2nd October 2005.
Last year I supported my brother, Adam, on his first attempt at the London to Brighton Road Race. Cycling the second half of the course whilst administering food, drink and clothing gave me a good idea of what would be involved, although I remember thinking at the time that I was kind of glad I was on a bicycle, not on foot.
We came to the conclusion though, that with ample feed stations, having a 'seconder', although an advantage was not a neccessity and that should I wish to race one year, we would both be able to compete unaccompanied.
In sporting terms, this year had been good to me. A reprieve throughout the year from back and sciatic problems, a 2hr 51min London Marathon, four other marathon finishes, a personal best and 5th place at The Longest Day long distance triathlon.
This comfort zone surely wouldn't last, I needed to make the most of the endurance base and decided now was the time to go for the London to Brighton. Now or never. It was time for some discomfort and the entry form was duly completed and posted, albeit delayed until the final day before closing date.

Where?


From 'Big Ben', Westminster to 'The Level', Brighton, and all points in between. Nominally; Streatham Hill (5m), Croydon (10m), Redhill (20m), Pound Hill (30m), Balcombe (35m), Ansty (40m), Hassocks (45m) and Ditchling Beacon (50m).

How?


Adam and I were lucky enough to get a lift up to London with another competitor, Richard Gurd who would be doing his 5th L2B, which I thought was quite crazy until I realised that others there would be well into their teens in terms of number of appearances.
We arrived at Westminster in the dark, found our way to the London Nautical School which was being utilised for changing and the dropping off of food and drink.
Feed stations would be every 5 miles so I had decided to have a bottle of Maximuscle Viper mix and a goody bag containing an SIS gel, a couple of soft figs and three jelly babies from 15 miles onwards. In a remarkably rare moment of foresight, eight sets had been meticulously put together and labelled up the night before.
I had opted to wear my tri-vest rather than club vest as the pockets would be handy for a couple of extra gels and two Dioralyte sachets for good measure. It was still pretty chilly at this time so I chose to start with a t-shirt over my vest. By the time I'd changed and pinned up four numbers the hall was pretty empty as everyone had set off on the 15 minute walk to the start.
As the last group of five of us jogged off towards the start and turned what we thought was the last corner, Big Ben had disappeared! Shouts of "Christ we're lost!", "panic", "don't panic", "it must be the next bridge" went up and the pace increased as we desperately searched for a glimpse of the big clock. More by luck than judgement, we had been going in the right direction and arrived at the start with a minute to spare.
Start on the "B" of the first bong of 7 o'clock, had been the instructions, so the chimes generated a buzz of excitement as 110 runners lined the road in anticipation.
I've learned never to make pre-race predictions about finishing times, but usually have an idea in the back of my mind about what I would consider a reasonable target, such as a 3hr marathon or a 10hr Ironman. I suppose my 'in my wildest dreams' target for this race was to get under 7hrs. 3hrs 20mins times two with 20 minutes cushion for the last two miles seemed doable. I certainly wasn't here "just to finish".
With that in mind I set off at roughly 'Ironman marathon' pace; seven and a half minutes per mile. If I could run at this speed after 2.4 miles of swimming and 112 miles of biking, surely I could keep it going for double the distance? There would be only one way to find out.
If you're the kind of runner who likes company in races, this one's not for you! Within a mile of the start I was running alone, not by design, but I had my pace planned and was determined to stick to it.
The first few miles through South London, Brixton and Streatham passed unremarkably, if rather surreally. The marshalling on this stretch was excellent as we were shepherded across roundabouts by smiling, fluorescent jacketed figures who appeared out of the early morning gloom like guardian angels. There was not too much traffic at this stage except for a number of red buses which required negotiation by switching back and forth between bus lane and pavement.
I went through 5 miles and 10 miles exactly on pace, 1 hour 15 minutes and feeling comfortable. I was just beginning to warm up now as the sun rose.
10 miles - 1:15:24 (12th)
By fifteen miles I had dispensed with the t-shirt, and was noticing a marked increase in Sunday morning drivers as we ran through the suburbs of Coulsden.
The long climb up Farthing Down was the first time we had experienced a gradient of any significance, it was also the first time I had some company as I was joined on the climb by two other runners. At least there was some respite from the traffic as we took a brief sojourn into the countryside.
I took my first goody bag at this point, the SIS gel and Viper were an immediate pick-me-up and a fig went down very well, which was a relief as I had not tried using these before in races. I tried one of the jellies but it didn't wash down too well so the remainder were suitably disposed of. I stuffed the remaining fig down my shorts for later. Lovely.
20 miles - 2:31:03 (11th)
Through 20 and 25 miles, I couldn't believe the accuracy of my pacing which remained within a minute of my projected time. I noted at this point that I was within a mile of being in uncharted territory. It would have been nice to see a marker at the marathon distance but I knew in my head when it came and went.
Back onto the main roads through Crawley, by now I was getting familiar with the supporters and their vehicles at the roadside. Their runners were obviously on a similar schedule to mine but I wasn't intending on looking around to see who or where they were. They would always give me a cheer, there was also the occasional cry of "Well done Nick" (compliments of the programme) from the verge which was a tonic which I tried to acknowledge with a "thanks", a smile or at least a grunt.
Still on schedule at 30 miles, I had already been through a couple of bad spells which I had run through, but was now beginning to lose that flowing feeling, and was having to dig in quite hard to maintain the momentum.
30 miles - 3:46:28 (12th)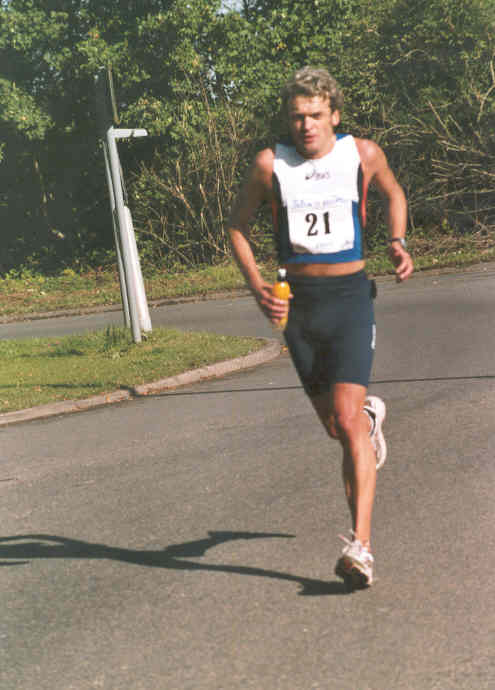 Through 35 and 40 miles the hillier parts of the course were really taking their toll. My back was getting sore, my knees were hurting and even my feet were feeling bruised and aching. Although the Viper/gel combination was helping, I could no longer stomach the figs. I could feel my pace dropping alarmingly, especially on the hills, and through this section I lost at least four places as people ran past looking strong, offering encouragement on their way through.
Competing at Ironman has taught me a lot of things though, one of which is that you are going to experience bad spells no matter how fast or slow you are going, they don't last forever and you will get through them with the right mental attitude. Just get over it and move on.
I kept reminding myself of Bob Brown's run across Europe which he has just completed, running a double marathon every day for two month's, surely I can do it just this once, this one day.
40 miles - 5:07:40 (15th)
I had also now started to count down the miles, so rather than 35, 40, 45 miles gone, it was 19, 14, 9 miles to go which seemed to help in a 'glass half full' kind of way.
The 45 mile feed station was a turning point. On a steep uphill I took my bag and stopped to take on some water. I made a decision to walk for the first time, "Just to the top of the hill" I told myself. Well, I got to the top, munched on a fig, and carried on walking for possibly two more minutes.
I was wasting time. I had to make another decision. If I walked the remaining 9 miles I would surely finish, but would have wasted 6 hours of hard work for a disappointing result. It was four miles to Ditchling Beacon, I had vowed to myself that I would run up that hill whatever, so I might as well start from now.
Good call.
It was probably not much more than a shuffle but at least I was now running again, the quiet rural lanes aided concentration as I made my way to the bottom of the Beacon. I took a gel and started on the long climb. It was actually not as bad as I had anticipated, the gradient gave me a proper excuse for running slowly and I felt some strength returning as I neared the top.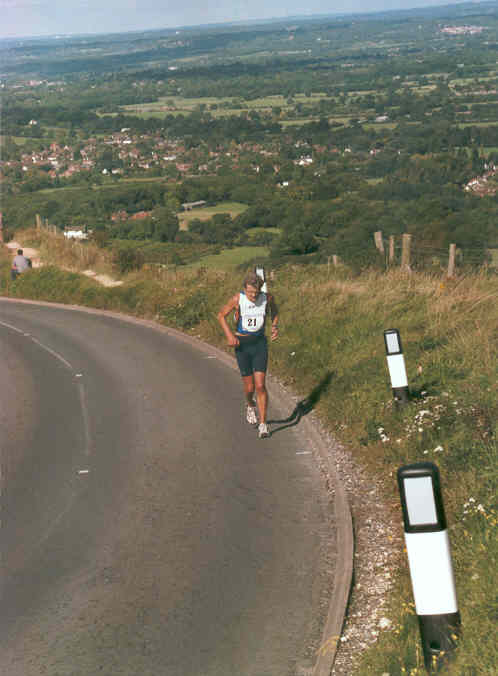 I don't know whether it was the panoramic view of a shimmering sea beyond the downs and town, the 'gale-force' wind whipping me along from behind, the 'crazed' car drivers speeding past within inches of my elbow or the Red Bull which I had deposited in my last goody bag, but departing the feed station at the top of Ditchling, I suddenly felt like a different person.
50 miles - 6:41:02 (15th)
A surge of adrenalin entered my body as I started to stride out again down towards the town. I picked up two of the guys who had passed me some miles back and even the 'second hill' failed to catch me out as I ground out the last five miles at what felt like 10km pace.
Down the final hill to the finish, my body was so sore but the damage had been already done. I could sense there was someone behind and afforded a glance, sure enough I couldn't have the luxury of cruising, and dug in further to the extent that I almost caught the runner in front.
Crossing the finish line was a huge relief. I had long since given up looking at my watch but was overjoyed to see the clock stop at 7hrs 11mins 26seconds. 12th place and a silver time standard medal.
Finish - 7:11:26 (12th)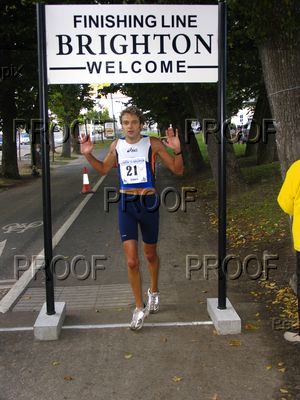 The finish area was quite subdued, no longer on the esplanade, it now resides in a slip road beside a park to avoid the town centre traffic, it sadly lacks atmosphere. I picked up my bag, I was suddenly very cold and put on as many clothes as I could find. I wanted to wait for Adam but was aching so much I couldn't stand any longer, so found a piece of grass and lay down, listening for the finishers.
Unfortunately Adam had been having a relatively bad day at the office but despite almost pulling out had managed to get himself back together for an 8hr 23min finish. Good on you bro!

What Next?


On reflection, although I didn't exactly 'enjoy' the journey, I'm glad to have completed this race. I'm happy with the result. I am not doing it again though. [Edit on reflection - that 7 hour target was agonisingly close though, hmmm!] I'm going back to the relative comfort zone of the marathons and the Ironman. But I have been able to answer a few questions. And there will be another challenge. Link to Course Map

Link to 2005 Results 10 mile Splits Spreadsheet