A report from Ironman France, June 2008

Intro.

It was just over nine years ago when I qualified for the Hawaii Ironman.

Early 1999, just turned 40 and a six week working contract in New Zealand handily coinciding with the Ironman in Taupo. Second place in the M40 age-group, a few beers and a couple of phone calls, and we were making plans for a 'once in a lifetime' family trip to Kona the following October.

I can still recall those ten fantastic days on the Big Island vividly, and remember, high on post-race endorphins, saying to Sue; "we are going to come back here when I'm 50". Well, nearly ten years on and a lot of water under the bridge, except that not much has changed really. To cut a long story short, circumstances dictate that now is not the right time for family holidays to Pacific Islands and anyway, 'twice in a lifetime' just doesn't sound so right.

However, I'm not going to let my 50th year pass without marking it in some way. Two alternatives spring to mind. Firstly, I'm now eligible for the 'Silver Surfers' club at the sports centre. Reduced rate badminton, soft tennis and indoor bowls sounds tempting, especially with a free cup of tea and a biscuit thrown in. Alternatively, my 'triathlon pot' might just extend to an Ironman entry with budget flight and accommodation for a long weekend in Europe. Lanzarote has long been on my to-do list but with my birthday in June, it comes that little bit early on this particular occasion. However, with a sea swim, hilly bike course and guaranteed heat, the French Riviera resort of Nice ticks all the same boxes so entry to Ironman France was duly despatched in December before the 'late' entry cut-off. At least I was going to keep the dream alive.

Due to ongoing problems with sciatica, I had deliberately taken an easy year in 2007 to give myself the best possible chance of being right for this landmark year and, together with some consistent biking over the winter, this seemed to have paid off with a couple of good spring marathon results and an age-group win at the Beaulieu Middle Distance triathlon in early June.

My targets for the race? Well, time-wise I would be happy with anything under 10:30. I had read different opinions on the severity of the bike course but having raced over a similar route here in the 2000 World LD Championships, I knew I could add half an hour to my bike time so 1hr plus 6hrs plus 3:30hrs including transitions seemed a good benchmark. More importantly, I was harbouring thoughts of possibly another podium finish in the back of my mind.

Triathlon, Ironman in particular, is an individual sport. It's is more than a race, it's about what YOU are capable of on that specific day, but the principal gauge of your performance, more than your finishing time, is that of your peers. That's what age-group competition is all about. A quick scan down the M50 category revealed that with Gavin Reid (who I have a history of finishing behind by a respectful margin) on the start-list I would likely be racing for second at best but I had no idea of the standard of my overseas 'opposition'.

Pre-race.

Although I was sorry not to be in a position to take Sue and the three boys back to Nice, it was nice to have my brother Adam along for moral support as we set off at 4.30am Friday for Luton Airport. A few hours later and we were standing sweating in a packed bus travelling along the Promenade des Anglais trying to stop my errant bike box from rolling down the aisle and taking out a few disgruntled shoppers each time we braked.

We had decided in advance to do our own thing pre-race as I had administrative duties to perform and Adam was keen to keep his phenomenal weekly running mileage up to scratch.

Queuing for registration, bagging, and racking was no less stressful than usual, not helped by smacking my shin on a pedal as I hurried to rack my bike but thankfully on returning to the hotel, a hastily applied ice-pack reduced the bruising and swelling and a race-stopping injury did not materialise.

Pre-race fuelling was the most important priority and consisted of spaghetti with a home-made tomato sauce cooked up on the hob in the room at regular intervals. Not haute cuisine but just the job.

Race-day morning went very smoothly, up at 4am with the lark, the bin-men, the street-hosers and the late night revellers, it was quite a surreal walk through town to the seafront. It was pretty warm already.

I loaded my two bottles of Viper, thumb-tested the tyres and decided to leave well alone as I could hear tubes blowing from over-inflation all over the transition area. That's the kind of pre-race stress I can do without. A last-minute dash back to the portaloos disturbed the butterflies slightly but otherwise I was in a great frame of mind for the day to come.

Swim.

I have a theory that mass start swim 'bun-fights' are easily avoidable. If you swim aggressively then you can expect reciprocation but whatever your pace, the swim should be just a warm-up in the overall picture. I prefer to coast the swim, start realistically and avoid confrontation. If you are in danger of becoming the meat in a neoprene sandwich, there's no need to barge through, back off for a few strokes, take some feet for a few more and wait for clear water. Don't kick out if someone is 'tickling' your feet. They won't be there for long.

Discounting the painful-on-the-feet entry and exit, the swim was a thoroughly enjoyable experience. I had been a bit worried about the size of the field with regard to the swim. Last time here, having started on the right-hand 'short' side, I had spent at least 5 minutes treading water at the first buoy, waiting for my turn to get around as the whole field funnelled to the same marker. My concerns were alleviated somewhat by the fact that this time we would be swimming straight out for over a kilometre before any turns. Nevertheless, I drifted gradually towards left-field in order that, although I ended up swimming further, I would not have to stop altogether on reaching the turn-buoy and the remainder of the passage was smooth.

My only worry at this early stage was that I could feel the wetsuit rubbing on my neck each time I headed up to sight. Hmmm, might be having a bit of a Savlon-fest for a few days after this. (I wasn't wrong).

Swim Time: 1:03:38 Pos: 479 Cat Pos: 7

T1 Time: 06:08

Bike.

I had no strategy planned for the bike, hadn't even looked at the course on the map let alone ridden or driven it but as the ride developed, a lot of the route became familiar from 2000. I discovered on the early sharp climb that my rear mech. had probably been bent slightly on the flight as I could hear it rubbing on the spokes in the lowest gear. Realising that it would be an guaranteed dnf if the derailleur caught in the wheel, I quickly changed up a gear and although I briefly had to dig deeper for this climb, there was nothing of a similar gradient for the remainder of the ride so it was not to be a problem.

There seemed to be great camaraderie throughout the ride. With so much climbing and descending, people were constantly swapping places as we played to our particular strengths, and a number of names became familiar as we greeted each other in passing.

I had been looking out for fellow M50 age-groupers but most body markings had already been washed off, and grey or balding heads were disguised under helmets!. It was only the numbers which gave a clue and there didn't seem to be many in my number range. There was a guy called Alexe who would give me a friendly name-check occasionally, although I had no idea who he was, so I guessed he was in my category.

I had been waiting for Gavin to come by, as I knew I'd be out of the water first, and sure enough, a tap on the back and a smile signalled the pass as he went by effortlessly. "See you at the finish" I called but he was away and gone.

By about 90km I was beginning to get significant discomfort down my right leg from the sciatic nerve which was beginning to affect my concentration. I decided on a radical change and hopped off the bike, moved the saddle up by about an inch, did a few back mobilisation stretches and resumed my ride. This seemed to do the trick as relief was immediate, although we were now over the biggest climbs anyway and on the long sweeping descents which offer the opportunity to stretch on the move.

Nutrition-wise, I tend to rely on whatever is on the race menu. I have a cast-iron constitution and can stomach pretty much anything on offer, and I like to get my money's worth out of these races. Two bottles of Viper and ½ a bag of fruit pastilles (my training diet) were all I packed in advance, the rest I picked up on the journey, mainly liquids but also a couple of gels and two halves of Powerbar. I even dispensed with my last drop of Viper in favour of making up a matching set of yellow Powerbar bottles!

The second half of the ride seemed to pass by much quicker than the first, although descending at speed is not my forté and I lost plenty of places on the downhill section taking us back to the Cote d'Azur, but once on the level got back into a good rhythm and made some progress.

I knew my bike time would be slower than usual but arrived back in Nice slightly earlier than expected which put me in a good state of mind starting the run. On the button, seven hours down, all I had to do now was run sub 3:30 to hit my target time.

Bike Time: 5:46:25 Pos: 483 Cat Pos: 15 Aggregate Time: 6:56:11 Pos: 440 Cat Pos: 10

T2 Time: 04:07

Run.

As much as I dislike lapped runs, the Ironman marathon is all about maintaining mental focus and with a four loop run you get to know exactly what is coming when and prepare accordingly. Obviously the intense sun and mid-30 degree temperatures were to become a major factor but having finished second in the hilly Isle of Wight marathon on the hottest day of the year just one month previously, I was confident that if I could keep my head together, the body should obediently comply.

Laps one and two were relatively comfortable. I was now in my element, my trainers felt like slippers after the harshness of swollen bare feet in tight bike shoes. I was already passing people at a steady rate, all the time wary that, from experience, eventually the bubble would burst and I would soon enter the world of pain that others were clearly 'enjoying'.

Running through the aid stations I took a water (plus one over the head), coke and energy at each. Unable to face any solids or even gels, I had a Dioralyte at the start of each lap. What an amazing and immediate pick-me-up those little sachets of glucose and electrolytes are.

Sure enough, laps three and four became a real struggle both mentally and physically. Beginning to wilt under the sun, I was determined that I was not going to stop or even walk as (from previous experience) this is such a demoralising way to lose time fast. In reality, this became impossible as the aid stations were beginning to resemble famine zones as the run course filled up. There was no way of running through without missing out on vital fluids so I ended up walking through and picking up my goodies. It was mentally hard to break back into what can only be described as a shuffle, but it paid off as gradually the legs started to flow again each time.

I have to say what a fantastic job the helpers did in making sure everyone got their nutrition. They were so attentive and supportive for the whole duration, making sure you knew what they were giving you and if you missed the take, catching up with a replacement and a smile. Those guys and girls were great!

Another vote of thanks must go to the British supporters, in particular the 'Pirates', along the promenade who I guess recognised the Farnham Tri vest and gave plenty of vocal encouragement. By the second half of the marathon I had completely entered the hurt zone and response was limited but the cheers certainly registered.

I cannot recall being overtaken at all during the run, except by the two leaders and their roller-skating escorts as they sped their way to the finish line whilst I was on lap two.

My own finish was highly un-flamboyant but possibly the most satisfying of all my Ironman races. This time it had gone almost exactly to plan and although I required no assistance at the finish, I was completely spent and in a little world of my own. No high-fiving down the chute and couldn't even raise a smile although managed to lift my arms aloft for the photo. I was smiling inside though.

Run Time: 3:21:18 Pos: 52 Cat Pos: 2 Aggregate Time: 10:21:36 Pos: 133 Cat Pos: 2

That's the way I like to finish my triathlons, maybe I should go harder on the bike but, having been in the 'total meltdown' situation once before, I don't fancy a repeat if I can help it, and I don't think I could have gone quicker by doing it any other way.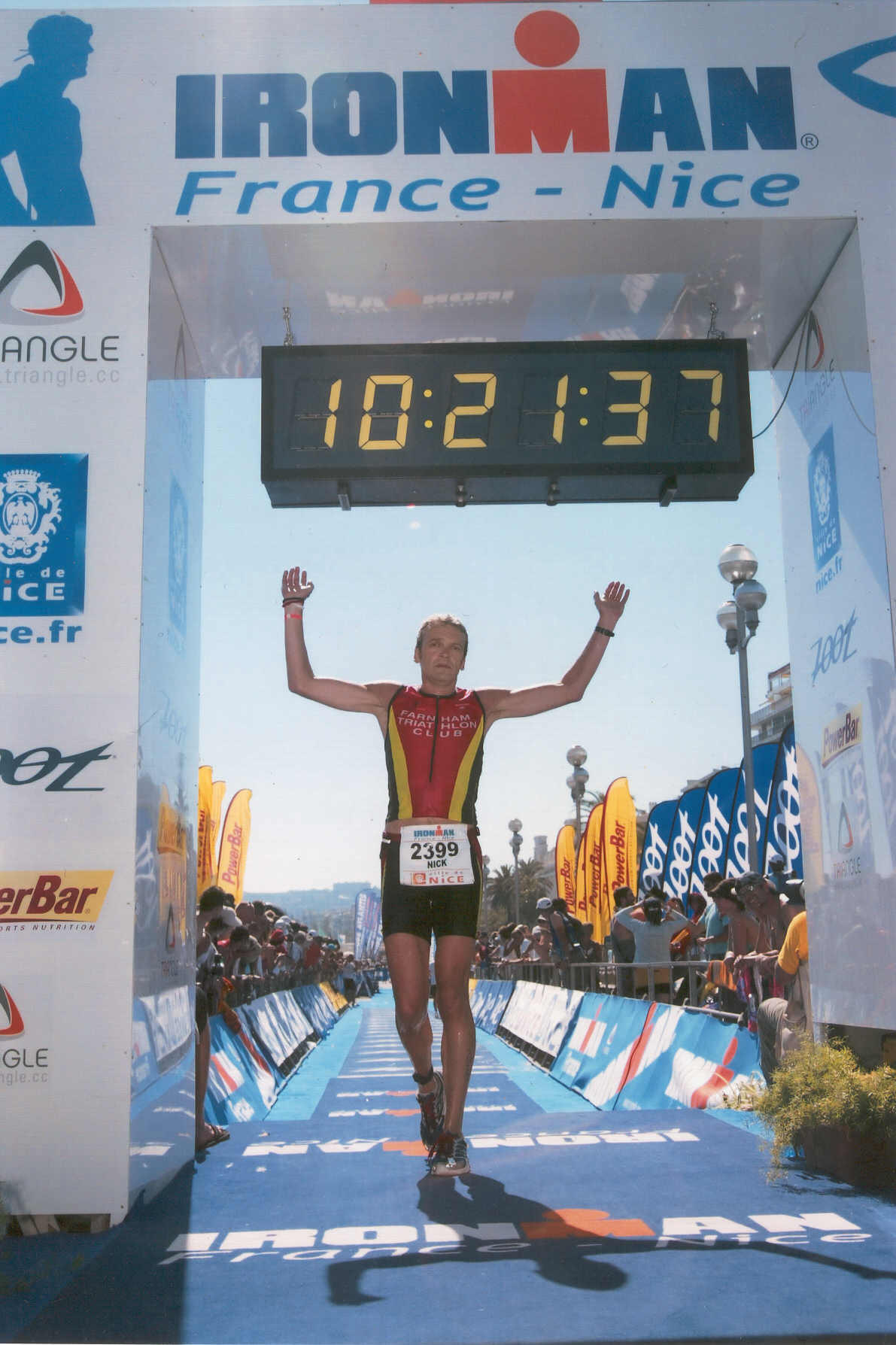 Post Race.
My first thought was to get to the massage tent as soon as possible, mainly because the lower half of my body was rapidly seizing up but also because I didn't fancy waiting in yet another queue. What a great and thorough job the guy did, another big thank-you deserved. I guess you'd pay up to £30 for that privately, I'm beginning to think these races may be value for money after all!
Next job was to phone home and let them know I was safely back. The boys had been given the links to Ironmanlive so hopefully they had more information than me about my race situation. I picked up my 'street wear' bag, dug out my phone and fired off a quick text.
Desperate to get out of my salt, sweat and sticky sweet stuff soaked gear, I found some semi-privacy behind an advertising billboard, peeled off my vest and just as I whipped down my shorts, a text reply came through on the phone. The first line read "2nd vet50!", at which point I think my already fragile post-race emotions finally got the better of me and my eyes started to water so that I could not read the remainder properly.
So there I was, a 50-year old man, standing in a corner of a public park in the centre of Nice, naked, caked in massage oil and god-knows what else, with tears rolling down my cheeks, desperately trying to focus on my mobile screen. At times, triathlon allows us to put ourselves in some strange situations and do some odd things in the name of the sport, but this was perhaps one of my more bizarre moments. "Pull yourself together before someone calls the gendarmes", I told myself and quickly pulled on some dry clothes before resuming my text conversation in some semblance of dignity.
I was very impressed when they told me the M50 winning time was 9:29 (Christian Bodson, you're on my list!), was sorry to hear that it was not Gavin, who I have since learned had sickness problems on the run, and from the splits of 3rd place man, deduced I must have run into 2nd just within the final kilometre or so. Hawaii qualification of sorts. That's kind of icing on the cake. Job done.
Back at the room, I'm normally ready for a few beers on the night after a race but on this occasion I didn't feel good at all and just wanted to lie down. The celebratory bottles of trappist ale stayed in the fridge and I couldn't eat any recovery food. I managed to get up at about 10 o'clock and have a stroll down to the finish area as the last few were coming in, and made my way back to the sound of the fireworks.
Next day was a bit of an anti-climax. As I wandered down to the seafront I had a peek through the open door of the auditorium as they were setting up for the Hawaii roll-down and was half tempted to turn up for my rightful slot after all. Then I remembered the small matter of a $500 cheque (for starters), so consoled myself with the fact that there was going to be one very happy punter further down my age-group (edit: shame it had to be a German!), and carried on to the beach to top up the sunburn and enjoy a more leisurely swim than that of the day before. I went alone to the awards, drank too many Erdingers, waited for my turn on the stage, shook the hand of Mr. Bodson, picked up my memento, drank some more Erdingers and eventually weaved my way back to the hotel for the final time.
Conclusion.
"We are going back to Kona when I'm 60".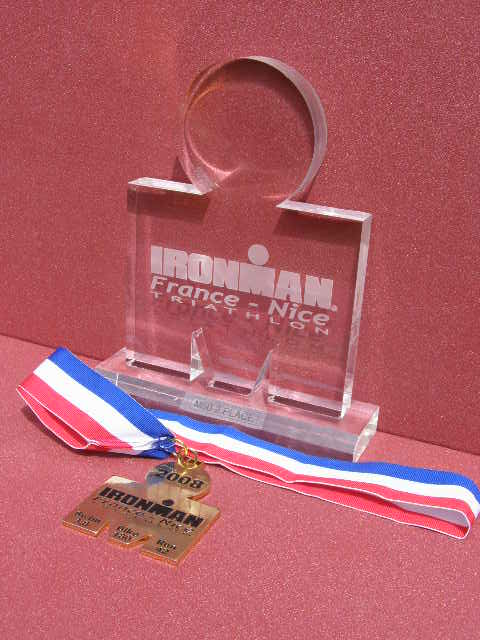 | | | | | | |
| --- | --- | --- | --- | --- | --- |
| SWIM | BIKE | RUN | OVERALL | RANK | DIV.POS. |
| 1:03:38 | 5:46:25 | 3:21:18 | 10:21:36 | 133 | 2 |
LEG

DISTANCE

PACE

RANK

DIV.POS.

SWIM SPLIT 1: 2.4 km

2.4 km @ 40:11

1:40/100m

SWIM SPLIT 2: 3.8 km

1.4 km @ 23:27

1:37/100m

TOTAL SWIM

1:03:38

1:40/100m

479

7

BIKE SPLIT 1: 23.3km

23.3 km (42:08)

33.18 km/h

BIKE SPLIT 2: 70km

46.7 km (1:50:58)

25.25 km/h

BIKE SPLIT 3: 118.7km

48.7 km (3:22:34)

14.42 km/h

BIKE SPLIT 4: 144km

25.3 km (55:31)

27.34 km/h

BIKE SPLIT END: 180km

36 km (46:12)

46.75 km/h

TOTAL BIKE

180 km (5:46:25)

31.18 km/h

440

10

RUN SPLIT 1: 5.25km

5.25 km (22:20)

14.10 km/h

RUN SPLIT 2: 10.5km

5.25 km (23:14)

13.56 km/h

RUN SPLIT 3: 15.75km

5.25 km (23:52)

13.20 km/h

RUN SPLIT 4: 21.1km

5.35 km (25:01)

12.83 km/h

RUN SPLIT 5: 26.35km

5.25 km (25:56)

12.15 km/h

RUN SPLIT 6: 31.6km

5.25 km (26:55)

11.70 km/h

RUN SPLIT 7: 36.85km

5.25 km (28:00)

11.25 km/h

RUN SPLIT 8: 42km

5.15 km (--:--)

-- km/h

RUN SPLIT 9: 42.2km

0.2 km (10:21:36)

0.02 km/h

TOTAL RUN

26.2 mi. (3:21:18)

7:40/mile

133

2

TRANSITION

TIME

T1: SWIM-TO-BIKE

6:08

T2: BIKE-TO-RUN

4:07
Back to Sport Page