Background.
"A little weak, lacks vigour". From all the comments written on my school reports, the only one I can still recall was this succinct offering from my 6th form PE teacher Mr Pope. Or was it Poke? It doesn't matter, it just about sums up my sporting pedigree.
About 8 years later, after watching my brother, Adam at road races for a couple of years, I started running myself and soon developed a love of the sport. I ran my first half marathon in 1984 and a year later we took part in the first Farnham Triathlon. I was hooked.
Fast forward a quarter of a century to 2008. 90 marathons, 9 Ironmans and countless other road races and triathlons later, and the announcement of the UK's first Double Ironman. Although I'd only made one foray into the world of ultra running with a pleasing 12th place in the last London to Brighton, I had vowed to take on another ultra challenge and 'the double' seemed like the obvious choice.
However, with a history of back and sciatic problems I can only really target one big race per year (a bit like Aldaniti) and had already decided to mark my 50th year with a trip to Nice for Ironman France, so I settled on a watching brief for the first year.
Reading the positive post-race comments on the website about the organisation and feel of this event cemented my desire to take part and, although I missed out in the original entry frenzy, a slot became available around Christmas and that was it, I was in for Double Iron UK 2009.
When Sue said straight away "I'm coming with you", I was slightly taken aback. Although she has always supported me 100% in what I do, she hasn't been to a domestic triathlon for years, still refers to it as "triatholon" and expects to see "men's bits" in transition. It was a huge comfort to know she was to be my crew, but I don't think she knew what she'd let herself in for.
It was also good to know that my club mate Carl (Atkinson) would be doing the event too as his enthusiasm knows no bounds and we could share ideas and inspiration.
On publication of the swim waves, it became apparent that I was 'seeded' third by virtue of a five year old 9:37 Ironman PB. I was under no illusion about finishing position though as the previous year's results showed athletes with a better Ironman CV than mine finishing mid-pack. The double is obviously a different animal and I had no pretension of anything other than a finish. That said, the 24 hour barrier seemed like a good benchmark.
Preparation.
I'd had a disastrous running year through injury with the only two long distance races I'd attempted, Bramley 20 & London Marathon, both ending in a DNF. Things had picked up through the summer but I'd only raced up to 10km, although I'd entered events for which I could cycle up to 30 miles there and back to make it a worthwhile 'brick' session. My longest run of the year was a slow and uncomfortable nineteen a couple of weeks out.
I'd planned to do some night riding and running but this never materialised, except for one occasion during our annual sojourn to Guilfest music festival, ten miles down the road. Having endured 2 sleepless nights in a leaking tent with incessant rain and a bunch of moronic neighbours shouting at each other through the night, I finally cracked and stormed out of the tent at 3:30am, threw some kit on and ran home to get some sleep. I got disorientated and lost and it took me about 2 ˝ hours but at least I now knew the head-torch worked.
My cycling had been getting stronger due to lack of running but I'm not really keen on spending long, long days in the saddle and my biggest (ever) ride had been the 126 mile Highclere Cyclosportive in June. The majority of my riding had been a twice weekly session on the spin bike in the gym. Metallica's "…And Justice For All" became my best friend. The best turbo album in the world…ever!
Swimming was…. well, swimming. I've done a couple of 10km Swimathons in the past and recently pool tested the wetsuit over 3.8km without overheating so I was confident I'd at least get through the swim.
Race Day.
Staying at the Holiday Inn, with a 1pm start we had the luxury of a lie in and leisurely breakfast. Despite this, by the time we'd pitched the tent in the rain, carried all the kit from the car park and wished Carl, coming out of wave 2, well as he set out on the bike, I was late racking the bike and still in the changing room when the lane call was made. I slipped into the pool with about a minute to spare. I quickly introduced myself to lane buddies Neville and Mike, said good luck to Denzil and Daz over the rope, and we were off.
Swim 4.8 miles (304 lengths x 25 metres).
The swim was very civilised. We were pretty evenly paced and any overtaking manoeuvres adhered to the 'touch feet and wait' rule (thanks guys). I didn't have any strict plans regarding hydration and just stopped whenever I fancied a drink and other than a little cramp in the latter stages, it didn't seem long before I was lying on poolside like a beached whale as Sue tried to wrestle off my wetsuit.
Third from our wave out of the water, I popped into the changing room with my bike bag, and selected shorts and sleeveless top assuming I'd soon be on the bike under clearing skies. So the weather forecast had led us to believe.
Ha! We stepped outside into a raging torrent where there used to be a path leading to transition as the rain continued to lash down in spades.
Now I'm not prone to swearing out loud, if at all, and I don't recall this, but Sue informs me the air was blue as we waded up to the bike. Hopefully we were out of earshot, but apologies if not.
Already shivering, and still in T1, I had to delve back into the bag for a couple of extra layers including a ridiculously inadequate waterproof.
Swim + T1 (02:22:46 – 6th)
Bike 224 miles (16 laps x 14 miles).
Once I'd worked my way into the first lap and got my head round the conditions, I began to enjoy the slightly bizarre situation. It really wasn't that cold once I'd started to work the pedals. If you don't think positively you're onto a loser from the outset so, banishing anything remotely negative from my head, I started taking in a few of the landmarks which were to become oh so familiar, whilst settling into a comfortable rhythm.
Psychologically, the 16 x 14 mile format was just about the right balance in that both numbers individually did not appear to represent a major challenge. Just don't multiply them together and make 224. I'd jotted down a split timesheet for Sue showing best and worst scenarios (discounting mechanical or physical failure) and it was great to see her at the end of each lap, bottles and bars at the ready, and taking instructions for the next lap. We'd not really discussed how it was going to work but she just seemed to know what to do and when. A kind of sixth sense.
Communication with the other athletes was restricted to a knowing smile across the road, other than that it was head down, dealing with the conditions and ticking off the miles. At one point during the afternoon I headed out of the T-junction just behind a tractor and trailer and, whilst enjoying a free draft for a few minutes, began to get a little impatient as it was starting to hamper my progress. Seeing a stretch of clear road ahead I pressed on the pedals, came out from the draft and gave it a full-on sprint. Drawing alongside the front wheels I got the feeling Mr Tractor Driver was unaware of the BTF 'drop back when overtaken' rule as I swear he sped up again. Anyway, with a car looming on the horizon from the other direction, I was now fully committed and with one last Cavendish-esque effort managed to safely complete the manoeuvre with a cheery wave.
As dusk turned to night, the rain eventually abated although standing water on the roads and regular passing cars meant we didn't stay dry for long.
Completing the first Ironman split around nine-thirty, I had my first and only 'climb off bike' stop as Sue had a bidon of hot tea and my tub of spaghetti at the ready. I allowed myself five minutes to digest, changed my clothing and shoes, and 'got back out there'.
The first couple of night laps were fine as this was a completely new experience for me. Sue refused to abandon her station for some sleep, and although my ancient front light packed up after a few miles, luckily I had a quality backup (thanks Pip) which lasted the remainder of the night.
As night drew on and the novelty factor wore off, my enthusiasm gradually ebbed away. By 2am Sue had finally been persuaded to take a break, the sky had cleared, the temperature dropped significantly, a cold mist had developed at the far end of the course and I was having great difficulty changing gears as my hands were no longer part of my body. The eerie silence with only the occasional unidentifiable cyclist looming out of the misty darkness, things had taken a gloomier turn. I was now passing on through transition without stopping. I had enough drink and no longer wanted food. I just wanted to get the ride over and done with.
"Do you take what I take
Endurance is the word
Moving back instead of forward
Seems to me absurd"
(Eye Of The Beholder)
Sue was back on duty (she hadn't slept) as I finally stepped off the bike. I was doubled over with stiffness and she beckoned with her finger and just said "follow me". We proceeded across transition where she tapped on the window of a car and after a couple of seconds a figure emerged from the back seat. A knight in shining armour. Step forward Tim Pepper (race physio). Tim worked on my back, Sue handed me a bag of salty pretzels and I slowly munched myself into a slumber.
Sue slipped away for a couple of minutes and returned with the news that I was now in second place in my wave and the leader (Daz) had just completed his first lap. Well, having thought I'd be at least an hour behind Daz off the bike, and not sure where the others were, this was the wake up call that I needed and I was off that massage table like a spring lamb (probably not).
I thanked Tim, kissed my wife (hopefully in that order, can't remember), donned my running shoes and head-torch and was steered in the right direction to start the run.
Bike (12:57:06 – 2nd)
Run 52.4 miles (42 laps x 1.24 miles).
The run course started with a downhill zig-zag out of the sports centre followed by a steady climb up to the "Devil's Staircase", six wooden steps up to the section through "Blair Witch Woods". I was having a bit of trouble with the head-torch which would intermittently 'ratchet' down to my feet or up to the sky if I bounced too heavily. This made running through the woods a little testing but the tree roots were well marked with luminous paint and I managed to remain on my feet.
It took about four laps before dawn broke and it was light enough to see without the head-torch. A while later and the sun was breaking through. Still in my cycle gear I began to feel uncomfortably warm, I called for my running kit on the next lap. Sue handed me my vest and shorts and not wanting to step too far away from the course, I made an indiscreet attempt to change there and then. Not a pretty sight I'm sure, apologies once again to anyone in the vicinity.
I was lapping consistently in the early stages, a fact noted by Trevor on the PA, who would give me a name check each time. By lap ten I pulled alongside Daz coming out of the sports centre, and (annoyingly, I'm sure) asked him what lap he was on. When he said "ten", it suddenly dawned on me for the first time that I might actually be leading the race.
Once again Sue was really pulling me together on each lap. Dispensing electrolyte or energy drink, food on request and most importantly, her lovely smile and positive vibes. The crowd in transition built up through the morning with the 'Tritalk' and 'Pirate' support camps and the atmosphere increased with each return.
Just after halfway I reached another crisis point. The sun was full on now and stopping each lap for a drink was breaking my focus and rhythm. I'd heard that Carl was off the course and unlikely to come out for the run. With athletes from the earlier waves beginning to appear on their final 'reverse' lap, the thought that I still had another 20 or so miles of running to do began to make me somewhat depressed and tetchy. Sorry Sue.
"Anger, Misery
You'll Suffer Unto Me"
(Harvester of Sorrow)
I walked a couple of full laps, and my main 'dangers' (I'd had word by now Daz was sadly out of the race), Anthony (TC) and Denzil looked to be running strongly. Although they did not seem to be making significant inroads into my lead, I was unsure of the time-gaps. At this point, Paul Thompson came past on his last lap from wave 2, which by rough calculation meant he was on for something around a 12 hour finish. My brain was obviously pretty addled now as a bit more adding up had myself down for well over that time and I thought that at this rate I was only going to finish second if I was lucky.
Ironically after the conditions of the day before, I found myself wishing for some cloud cover and my prayers were answered with ten laps to go. Finally getting back into some rhythm, I was now running through transition without stopping. Grabbing, drinking, throwing, marathon style. I had developed a non-stop run/walk strategy which brought some consistency back to my splits and some energy back to my legs.
My head seemed to clear too, and a reappraisal of what I had to do revealed that I could still break 24hrs and the overall win be in my grasp if I could maintain this pace (or rather momentum) to the finish.
Another boost was seeing the familiar Farnham Tri Club kit approaching from the distance and realising that Carl, fully refreshed, had come out to play again. 'Nutter'!
This had long since stopped being a test of athletic ability and was now entirely down to mental fortitude to keep moving and ticking off the laps. At last, PA Trevor called my name out as 'race leader starting the final lap' and a wave of euphoria and relief flowed through my body which lasted all the way round as I received congratulations and high-fives from all the other athletes.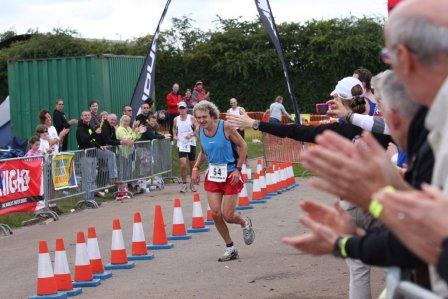 The final push to the line was a very memorable experience as it finally confirmed that I had picked the biggest sporting challenge of my life to record my first overall race win at the age of 51.
Run (08:28:28 – 2nd)
With a total time of 23hrs 48mins 23secs, I had also achieved my sub 24hr target.
Overall (23:48:23 – 1st)
Although not in the same parish as Hywel Davies' 2008 winning time of 21:30:39, with the greatest of respect to my fellow competitors, you can only beat who is there, and if Hywel (who's won lots of things) says "winning the double is my greatest achievement", then that's good enough for me.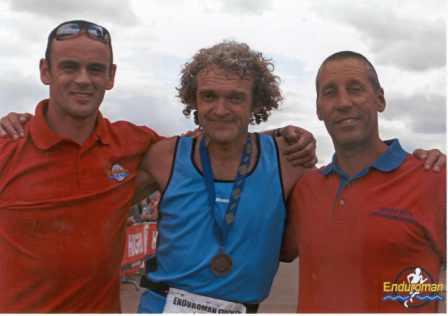 Thanks to Steve and Eddie for putting on the race and their enthusiasm and concern for all the athletes throughout the event. Also the volunteers, marshals, supporters and everyone concerned with keeping us going over the weekend. The Double Iron family.
Special thanks to Sue. I think I may have given the impression that for her it would be a weekend relaxing in a chair in the sunshine with the radio, some books and her knitting, handing out the odd drink occasionally. Soaked, cold, hungry and sleepless; not a page was turned or a stitch knitted. I don't think either of us had thought too much about the reality but have both come away with a shared experience we will long remember.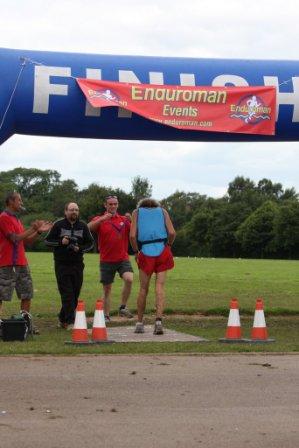 I like this pic taken by TC's mate Paul. With scraggy hair, baggy shorts and spindly legs I probably don't fit the mould of your average triathlon winner but then again, this is not your average triathlon.
Or put another way, courtesy of final finisher - the legendary Reverend Graham….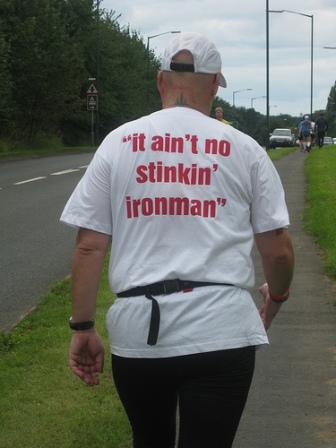 Copy of full results & splits spreadsheet here
Link to post-race report on Tri247 here