DOCprint was developed to interface with Global software when a client running GSM for Windows/NT required a change in the method of printing Sales and Purchase orders and invoices from their bespoke order processing packages.
The original Global Software was printing multi-part document sets on pre-printed stationery using Newbury dot-matrix tractor-feed serial printers.
There were a number of disadvantages with this set up which included:-
Expensive and time consuming maintenance on the printers which were themselves becoming obsolete.
Expensive pre-printed stationery sets with minor changes unviable in short term time-span.
Poor quality paper in 5 part sets.
Poor quality printing with dot-matrix printer head and ribbon ink.
Problems with printer sharing, time-consuming paper changes and 'in use' errors.
The requirement specification was to make use of one of the many value laser printer options available connected to the computer network via an ethernet cable, printing on plain copier paper with no extra operator interaction or printer selection.
The advantages of this set up would include:-
Cheap printers with easy self-maintenance and part renewal and good availability of replacements.
Cheap, easily available plain stationery .
Choice of paper quality.
Top quality laser printing.
No printer sharing problems or paper changing requirements.
Having looked at a number of 'off the shelf' reporting and form printing software packages, none seemed to match the exact requirements that we were looking for with regard to the Global interface.
The reasons for this included:-
Too expensive!
Complicated and time-consuming to set up and configure.
Required operator input, often not possible from a distant location.
Unable to handle GSM style print files.
Unable to handle multiple copies with slight differences.
The decision was made to develop the precise solution using these guidelines:-
Simple, user friendly document design tool.
Able to run in the background with no additional operator interaction.
Able to distribute documents to printers in several locations.
Able to handle GSM style print files.
Able to handle multiple copies of a document with slight differences.
Minimal changes to the Global software were required in order to extract the data which was going to generate the printing of the document. There were two possible solutions to this requirement, both of which can be handled by DOCprint.
1. Print the report to a direct access device from where it will be picked up by the program RPEXT (included) and extracted to a Windows directory. The extract file will then be identified as a 'GSM Print' type file by DOCprint which will wrap around the specified template whilst printing each page. Fig.1 is an example of how this is achieved.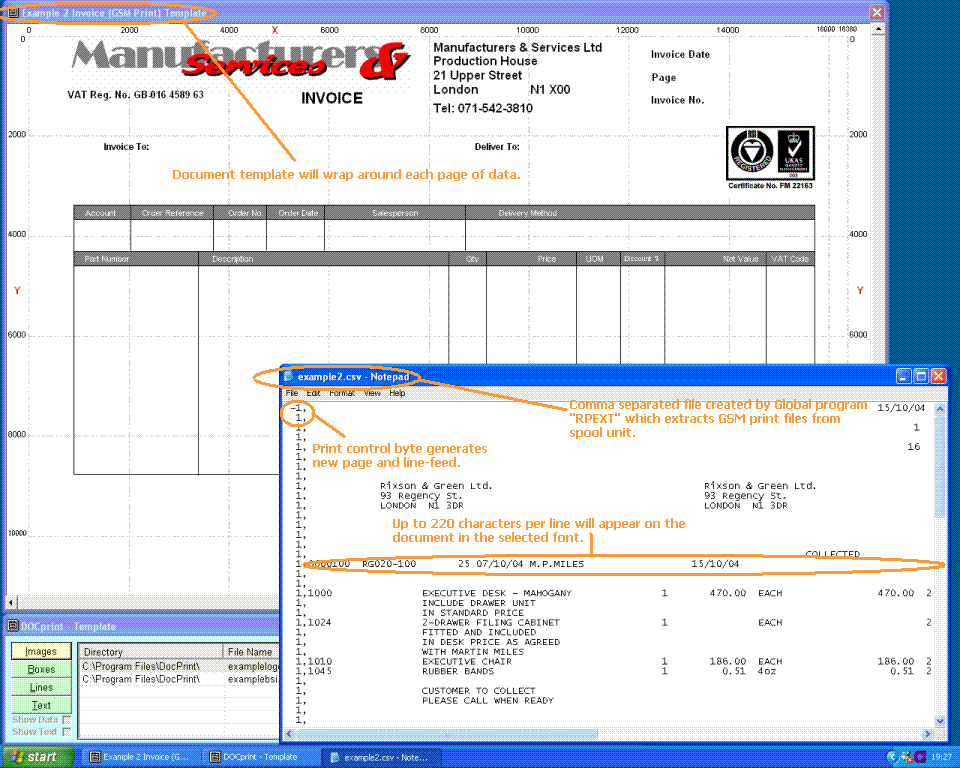 Fig.1
2. Replace the specific document (invoice, order etc.) print program with a new program to extract the specific data fields to records in a comma delimited file direct to a Windows directory. The extract file will then be identified as a 'Comma Separated' type file by DOCprint which will import and configure each individual field as defined by the document parameters. Fig.2 is an example of how this is achieved.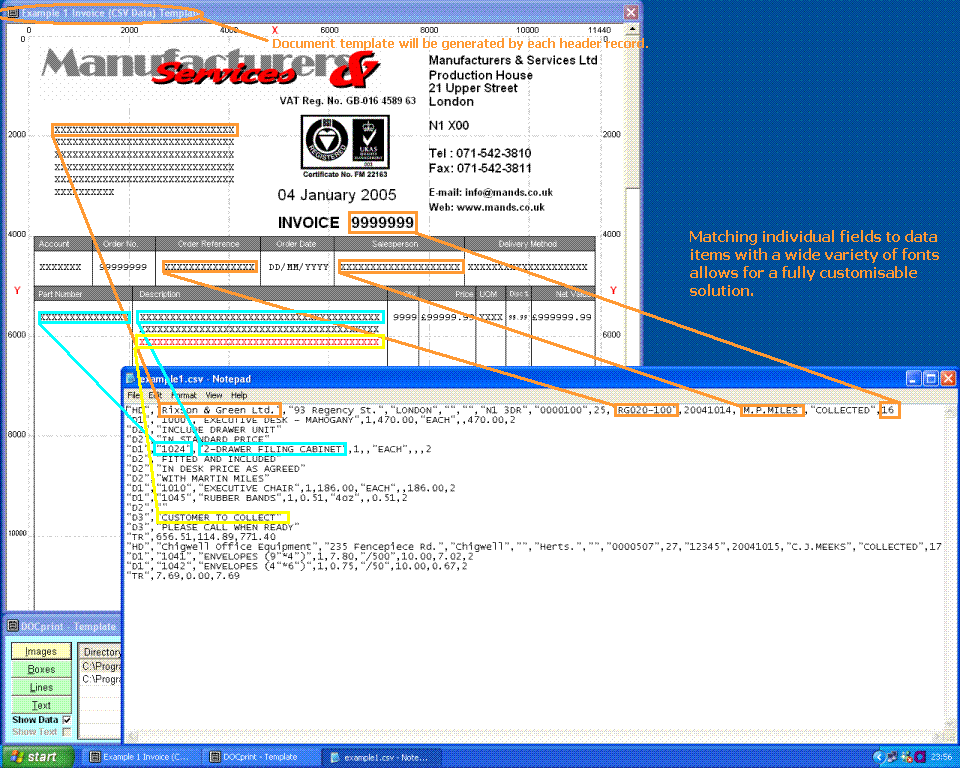 Fig.2
The two methods each have their own advantages.
Method 1.
Requires no extra Global programming as extracts can be handled by the supplied programs.
Method 2.
Able to use different fonts and sizes for every field.
Able to control line counts.
Able to position individual fields exactly.
Other features of DOCprint:-
Able to combine data and text files. (Used to print block of text such as terms of sale on either the front or back of the page.)
Able to print non-identical multiple copies (e.g. customer copy & office copy) by passing the data file between documents.
Able to maintain an archive of printed documents for reference or reprint.
Able to create professional and/or personal letters using logos, photographs or images as template for simple letters written using Notepad or Word/Wordpad (saved as rich text format).
Two additional Global 2000 programs are included which extract Sales Ledger customer and Purchase Ledger supplier details for selected accounts to a specified Windows directory. These can be used to generate mailshots, forms, questionnaires etc.
Back to main information page for DOCprint click here...

E-mail: N. Holmes